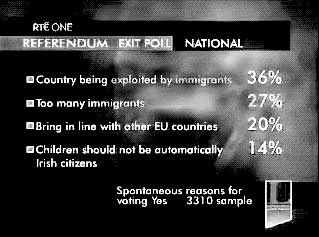 Cheers to Sunday Independent journalist Jim Cusack for reporting today about
a marriage-scam involving illegal-immigrants
to claim residency here. Apparently Latvian women are being offered up to €10,000 to travel to Ireland to marry illegal Pakistani immigrants living in Ireland. According to the report:
Poor, young Latvian women are being lured to Ireland with promises of up to €10,000 to "marry" illegal immigrants here, men mainly from Pakistan, most of whom are believed to have wives back in their home countries.Adverts have been placed in Latvia and, it is believed other Baltic states, seeking women to come to Ireland to marry illegal immigrants over the past two years. One advert in Latvia stated: "Young unmarried women wanted. Women who would agree to help Indian guys in Dublin with registering marriage on paper (fictitious marriage, popular in Dublin nowadays). "Everything will be covered, plus you get €1,000, plus room rent covered, plus work offered, plus pocket money, plus course (professional, language) plus other benefits. Also plane ticket costs will be covered. All this is legal!."Although the advert claimed that"Indian" men were involved, investigations into such marriages by the Garda National Bureau of Investigation (GNIB) found that those involved are all from Pakistan.


The article continues by citing an individual case:
A journalist from Latvian newspaper Diena who posed as a possible bride, replied by email to the advert and received a reply stating: "When arriving in Ireland this marriage is not registered right away but only after 3-6 months not earlier, because in Ireland all 'paper formalities' take very long time and after you have submitted an application you must wait for another 3-6 months until that marriage."A fictitious marriage is registered, it is a marriage on paper. With this the Indian guy may stay in the territory of Ireland legally because he has registered his marriage with EU citizen. This allows him to stay in Ireland permanently."It does not cost anything for the person who is helping, also stamps are not put in passports any more, passport stays clean. Then this marriage is registered in local Irish computer, not in Latvian register. Marriage agreement/ contract is signed and cancelled after a year. No obligations from both sides. This is just a formality. And it is legal process. At present it is a rather popular thing in Ireland (also in other countries eg England, Switzerland and others." the reply said.

Apparently, even
the Latvian authorities themselves
are shocked that such 'marriages' are not illegal in this country:
The Latvian authorities are apparently amazed at Ireland's lax controls over arranged or bogus marriages.
Last month, Latvian police said that they have been informed by the garda that such "marriages" are "not a crime" in Ireland.
The Head of the
State Police Organised Crime Enforcement Department
, Arturs Vaisla, told the Diena newspaper: "There are countries that treat such cases irresponsibly. If it had happened here we could have put them in prison."

This underlines that former Minister for Justice Brian Lenihan was wrong to cave-in to the so-called 'rights' groups on restrictions on marriages to non-EU nationals. The original form of the Immigration, Residency and Protection Bill would have give the Minister a veto on such marriages. Prior to leaving office, he apparently
agreed to 200 amendments
including rolling back this restriction. The coming to office of his successor in this Department, Dermot Ahern, represents a golden opportunity to reactivate the original proposals. The elites have been out of touch with public-opinion for years on this issue - the Citizenship referendum was opposed by most Opposition parties and implicitly by some Fianna Fáil backbenchers who questioned its timing. But 80% still voted yes. And polls consistently show that 70%+ of the Irish people favour tighter immigration-controls. As such we now have a new loophole and I believe that the Irish people want this to be closed. In this, we have a responsibility not just to our own national interests and those of the law-abiding taxpayer, but also to our partners in the European Union, whose border and residency controls are being circumvented by loopholes like these. We're counting on you, Dermot.