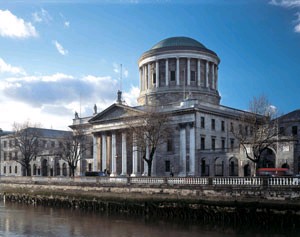 The extent of leniency in the Irish judicial system was brought home a few days ago
when a convicted rapist
, Billy Keogh, received a 5 yr sentence with 3 of those years suspended. Judge Barry White justified the suspension by refernece to the supposed 'good character' of the accused: "Sentencing Keogh, Mr Justice White told the defendant: "It is quite clear to me that you are a man of good character and that you have brought shame and disgrace on yourself and shame and disgrace on your wife and children." He added that he was impressed by how Keogh re-established himself after losing his business in 2004 and that he also had an elderly dependent mother and seven employees to support."
This is hardly unique in the Irish justice system, as official sentencing statistics for
Circuit Criminal Courts for 2006
demonstrate. 29.9% of road traffic offences, 45.9% of drugs offences, 36.8% of sexual offences, 40.9% of firearms offences, 32% of larceny offences, 46.6% of assaults, 25% of child-abuse offences, 80% of manslaughter cases and 36.4% of "other" offences resulted in suspended-sentences. According to the CSO figures released on 28th January 2008, fraud rose from 4,133 incidents in 2006 to 5,713 in 2007 (up 38%). In Quarter 4, 2007, Forgery/False Instrument Offences rose to 568 (up 73%) when compared to Quarter 4, 2006. And while incidents classified as Assaults declined slightly (by 0.4%), burglaries (5.1%) and Robberies rose by 5.1% and 12.4% in 2007 when compared to 2006. Offences categorised as Arson, Thefts and Other Headline Offences rose by 22.2%, 1% and 6.9% respectively.
Looking at the findings more closely, a number of underlying trends become apparent:

Homicides
In Quarter 4, 2007, recorded homicide incidents rose by 31% from 48 to 63 since Quarter 4, 2006. Murder/manslaughter incidents rose from 19 in Quarter 4, 2006 to 22 in Quarter 4, 2007. In 2007, murder attempts/threats rose from 103 in 2006 to 166 that year - a 61% increase.

Assaults
There was actually a fall in incidents of Assault causing harm for 2007 by 179 (4.5%) compared to 2006. But the 2007 figure for Harassment and Endangerment was 601, an increase of 141(30.7%) on the 460 recorded in 2006.
Sexual Offences
Comparing figures for Quarter 4, 2007 with the same period in 2006, Sexual offences
fell by 58 (16.2%) from Quarter 4 2006 to Quarter 4 2007. Rape Section 4 and Rape of a Female rose by 12.5% and 6.3% respectively.

Arson
There were 559 recorded incidents of Arson, an increase of 121 (27.6%) in Q4 2007 on the same quarter in 2006. In Quarter 4, 2007, there were 1,998 incidents of Arson, compared with 1,635 in 2006, a rise of 22.2%.

Drugs
Unsurprisingly given recent high profile events, all drugs offences in this category increased over the year. Headline drug offences in 2007 rose by 791 (21.8%). Possession of drugs for sale or supply, increased by 595 (19.7%), and recorded Cultivation, manufacture or importation of drugs offences increased by 79 (58.5 %) over the year.

Thefts
Offences in this category accounted for 55.9% (58,657) of all headline offences in 2007. Recorded Thefts from person were down by 18.3% (from 3,611 to 2,950) in 2007, compared to 2006.

Burglaries
Burglary offences accounted for just over 25% of the total 27,017 headline offences recorded in the fourth quarter of 2007. There was an increase in Quarter 4 for all offence types in the category when compared with Quarter 4, 2006. However, in the whole of 2007, there were reductions of 5.4% and 10.6% for incidents of Burglary and Aggravated Burglary respectively, when compared to 2006.

Robberies
Both the quarterly and annual recorded figures for Robbery decreased in 2007. The number of Robbery incidents was 2,090 – a decrease of 296 (12.4%) from 2006. In 2007, recorded offences of Robbery of an establishment/institution fell by 293 (26.5%) when compared with 2006.

In this context, it is clear that there exists a vast gulf between the Irish public and the judiciary on the questioning of sentencing. When whole or a large part of sentences are suspended on this scale, it becomes clear that the system risks turning the sentencing system from a deterrent to crime to an incentive to commit more. It's high time to challenge the liberal culture of the Irish judiciary, and to my mind the best way to acheive that is to force them to stand for election as in the United States. I have a feeling they will change their tune then, especially as they will have to account before the Irish electorate for light-sentencing in a time when violent crime is spiralling out of control. The age of secretive appointments to the bench and disregard for public opinion must end.